Irish Wedding Invitations
Many symbols that belong to ancient civilizations have become marks to represent different states of mind, particularity of a thing, carrying at the same time messages to transmit certain types of information. As it is the case with the symbols to represent the spirituality of Irish people. Searching for ways to decorate the aspect of the wedding invitations, Irish wedding couples come across the multitude of symbols that fill the pages of Ireland's mythology, history, and civilization. In this regard the options to create Irish wedding invitations for the guests to attend to an Irish wedding celebration are revealed by the multitude of symbols a couple could use as marks of their identity.
The variety of symbols comprises meanings that can be utilized in the design of a wedding invitation, as it is for instance the shamrock – a symbol that is often featured on souvenirs or the Irish postcards. It is said that shamrock was made famous by St. Patrick as he carried it to explain the mystery that lies behind the concept of Holy Trinity in his attempt to spread Christianity all over the country. Shamrock in its graphical representation could be easily reproduced in the creation of Irish wedding invitations and through its symbolic meaning it can carry the message of wedding couples that are ready to unite under the omnipresent eye of God and His overwhelming power.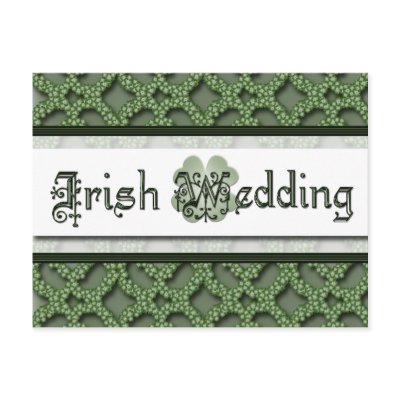 The Celtic Cross is another Irish symbol used mostly in the adornment of the jewelry, but its stylization could bring to the aspect of a wedding invitation the mixture of Christianity with the ancient worshiping of the sun. This graphic symbol confers the invitation card the meaning of Divine united with the everlasting light and warmth of the perennial sun, in a total blessing descended over the wedding couple that will invite their family and friends to witness the exchange of vows of commitment and love and support.
Legends of leprechaun have never ceased to fill the bed time stories of the Irish children; therefore their graphical representation can make the object of decoration for the wedding invitations. These leprechauns are dressed in green, they wear a cocked hat and a leather apron generally said to be carrying a pot of gold. The wedding invitation in this regard can be created with a leprechaun that carries the symbol of two gold wedding bands and announcing the guests about the upcoming event through the gesture of holding these two wedding rings.
The Celtic harp, which is said to stand for the immortality of the soul, can be recreated on a musical wedding card that opens with the sounds of music to display the detailed message of the wedding celebration. Having symbols to represent your own national and spiritual identity is a great opportunity presented to the wedding couples in the moment of creating their invitation cards. These symbols are moreover better to be utilized so long as everybody to belong to the specific country can easily understand the significance of a symbol, especially if it is combined with the message to carry the news of a wedding celebration.
11